I. Overview
Adopted technology of ARM chip controlling output and toroidal transformer with high-capacity and equipped with LCD display meter, the HZDL-N2 Primary Current Injection Tester could simultaneously display primary current, secondary current and turn ratio. The product possesses the characteristics of nice appearance, large output capacity, small size, light weight and so on with external aluminum alloy case and PC panel. It is mainly suited for CT turn ratio and contact resistance tests of power system and other occasions needed high current test.
II. The Main Performance Index
2.1 Input Power Supply: AC:220V·50A,50Hz.
2.2 Output Current: AC:2000A·6V or 1000A·12V.
2.3 LCD Screen Digital Display: Simultaneous display of primary current and secondary current as well as the turn ratio;
The Range of Primary Current: 0~2200A, Resolution:0.1A;
The Range of Secondary Current: 0~6A; Resolution:0.001A.
2.4 Precision: TRUE RMS ±0.5%.
2.5 Usage Environment: Temperature -10~40℃,
Relative humidity <80%.
III. Instruction Of Panel And Function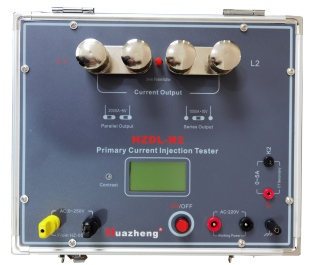 3.1 The Terminal of high current output.
3.2 Series or parallel pressure plate.
3.3 Series or Parallel Button: it presents series connection when the second pressure plate are put in the middle (that is the button is pressed).
3.4 The input terminal of secondary current measurement.
3.5 Regulator input terminal, 0~250V·50A.
3.6 LCD screen (displays primary and secondary current values and turn ratio).
3.7 Contrast control of LCD.
3.8 Ground Terminal: to ensure safe operation, please ground the wiring terminal.
3.9 Power input terminal: AC: 220V working power supply (liquid crystal panel and fan power supply), thus inputting red and black terminals.