Specializing in the production of switch mechanical characteristic testers (also known as high-voltage switch testers),Let Huazheng Electric share with you how to deal with common problems of high-voltage switch testers.
Many electrical test equipment will encounter some common problems. These are not equipment problems, but are caused by unfamiliar use. The following describes the common handling methods of the switch mechanical characteristic tester.
The instrument prompts "output short circuit or excessive load, please shut down and check the wiring of the risk control system"
(1) The control wiring is wrong, which causes the output of the instrument to be short-circuited, and the short-circuit protection function is activated.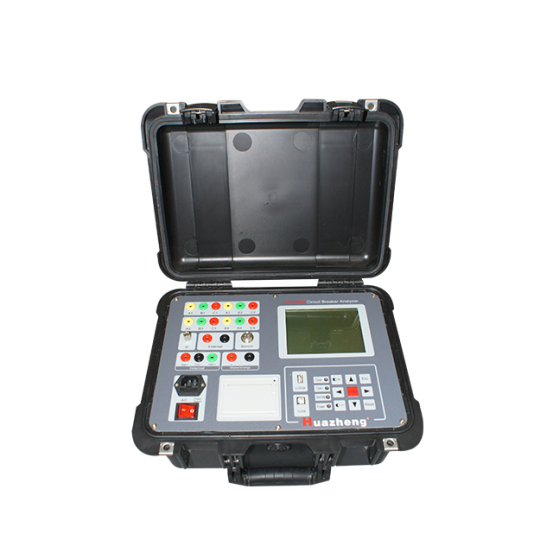 Circuit Breaker Dynamic Characteristic Tester

Handling management method: After shutting down, refer to the above problem and recheck the wiring.
(2) The field coil is overloaded and the instrument cannot be driven normally.
Handling management methods:
① For the switch of an electromagnetic mechanism, the driving current required for the operation of the control switch closing coil is very large (up to 100A or several hundred amperes), and the maximum load capacity of the operation of the equipment and the power supply is 20A. This will cause the load to be too high and the instrument cannot be driven normally. Generally speaking, on-site management is to connect the closing control line to the closing contactor coil of the previous stage of the closing coil, and use the internal control system of the instrument to close the switch contactor. The contactor mainly drives a switch closing coil to make Switch technical action. or use the "external trigger" mode operation switch to turn off.
②For the switches of my country's hydraulic and spring mechanisms, because Chinese instruments default to "excessive load pressure" when the output current density is greater than 6A. Please check or use a multimeter to measure the resistance value of the closing coil to ensure that the closing coil current is large. Then please check the wiring carefully and confirm that there is no short circuit in the closing output, then the short circuit protection management function of the instrument can be cancelled and the research test can be carried out. (Note: After canceling the short-circuit protection function of the instrument, the output of "switching machine control power supply" has no protection function. If the output of the control power supply is indeed in a short-circuit state at this time, it may damage the control power supply of the instrument! Please operate with caution)
The specific method is to turn off the computer, hold down the button and turn it on again, until the "Release Button" screen prompts to release the button to cancel the short-circuit protection function.