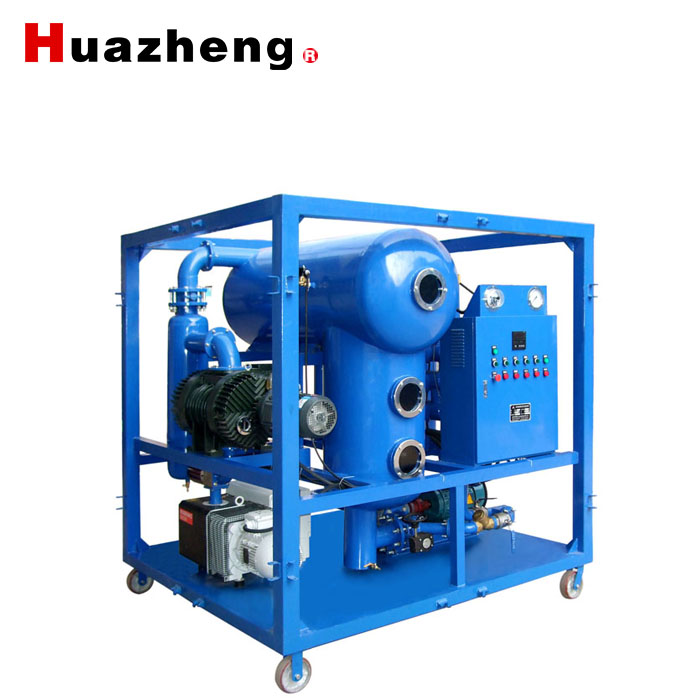 Vacuum oil filter is a commonly used oil filter product, which can be used for on-site oil filtering and refilling of various oil-immersed transformers, oil-immersed current and voltage transformers and high-voltage oil-less circuit breakers. Today we mainly introduce the working principle and operation method of vacuum oil filter, hoping to help users better apply products.
Working principle of vacuum oil filter
The vacuum oil purifier is designed according to the different principles of the boiling points of water and oil. It is composed of a vacuum heating tank fine filter, a condenser, a preliminary filter, a water tank, a vacuum pump, an oil drain pump and an electrical cabinet. The vacuum pump draws out the air in the vacuum tank to form a vacuum. Under the action of atmospheric pressure, the external oil enters the primary filter through an inlet pipe to remove larger particles, and then enters the heating tank, and passes through the oil at 40~75℃ after heating. Automatic oil drift valve, this valve is to automatically control the balance of the amount of oil entering the vacuum tank. The heated oil is separated into a semi-mist form by the rapid rotation of the spray wings. The water in the oil evaporates rapidly into water vapor and is continuously sucked into the condenser by the vacuum pump. The water vapor entering the condenser is cooled and then returned to the original water to be released. The oil in the vacuum heating tank is discharged into the fine filter by the oil drain pump, and the particulate impurities are filtered out through the oil filter paper or filter element, thereby completing the vacuum oil filter quickly The whole process of removing impurities, water and gas in the oil, so that the clean oil is discharged out of the machine from the oil outlet.
Operation method of vacuum oil filter
Connect the oil circuit of the inlet and outlet pipes, connect 380V, and connect the safety ground wire. Check whether the circuits are safely connected and whether the valves of each oil circuit are open. Then proceed with the operating procedures after preparations are complete. Start the cooling water pump first, check whether the water circulation is normal, then start the vacuum pump to make the oil in the vacuum pump run normally, and then make the vacuum pump run continuously. When the vacuum surface reaches the limit, the oil inlet valve can be opened, and when the oil level is seen in the lower window of the vacuum cylinder, the oil drain pump switch is activated to start the normal circulation of the oil draining and filtering impurities oil circuit, and the heater switch is turned on to dissipate the water in the volatile oil. share. If there is a lot of water in the oil, the end of the oil in the vacuum cylinder will increase. At this time, the vacuum degree suitable for the bleed control must be opened. When the moisture is reduced and the oil drift drops, the bleed valve will be closed to make the vacuum reach the limit. At this time, pay attention to the reaction of each instrument. If the pressure gauge reading is greater than 0.3MPa, it means that the filter paper in the filter has absorbed more impurities and needs to be replaced with a new one. After the work is completed, refer to the working principle and open the vent valve to The vacuum reaches the normal atmospheric pressure. After draining the oil in the cylinder, the remaining oil is discharged from the oil drain plug to prevent it from being mixed with different types of oil during the next use. Pay special attention in winter to drain the water in the vacuum pump and the water tank. , Otherwise the vacuum pump and water storage tank will be damaged