The DC resistance tester is mainly used to measure the DC resistance of distribution transformers, transformers, motors, lines, etc. It is a digital product that replaces single and double-arm bridges. DC resistance testers are often used in electrical work. There may be some failures when we use this kind of instrument, so how to solve the problem after encountering the failure? Let me explain to you:
1. Fuzzy screen appears in the DC resistance tester test:
 The most likely possibility for the DC resistance tester to have a flower screen is the poor contact of the internal cable. At this time, we need to shut down and check whether the cable is loose. Reinforce the cable to solve the problem. Of course, this is a common cause, and there is another possibility that electromagnetic interference causes the screen to display abnormally. If this is the cause, we have to contact the manufacturer and ask the manufacturer to add a filter capacitor to you. Of course, the above are all equipment reasons, and there are some problems outside the equipment, such as unreasonable operation methods and storage methods can also cause equipment damage. During use, do not touch the LED screen with high temperature objects, and check whether the input interface fixture is normal before testing. In addition, keeping the equipment dry and clean is also an effective way to extend the service life. There are also special requirements for accurate measurement of the testing equipment. It is best to calibrate the equipment once a year to ensure the accuracy and stability of the measured values.
2. The insurance is burned when the DC resistance tester is turned on:
There are two situations when the insurance is burned when starting up: if this happens with a 5A-10A direct resistance meter, generally speaking, the built-in transformer will be burned out by the high voltage, which makes the instrument unable to operate normally; if the current of the direct resistance meter is 20A In the above situation, the reason is the switching power supply. When the insurance is burned, we only need to replace the transformer or the switching power supply in time for normal use. When repairing the equipment, a professional engineer must be on site to disassemble the equipment. If there is no such condition, you need to return the equipment. The field is repaired.
3. The resistance value cannot be measured when using a DC resistance tester:
There are generally two reasons for the undetectable value. The first reason is that the switching power supply is broken and there is no current output. This reason may be that the power supply is damaged. We can replace the power supply; the second reason is the set value. Exceeding the device range, if this is the reason, we only need to restart the instrument, select the resistance or current within the range to measure.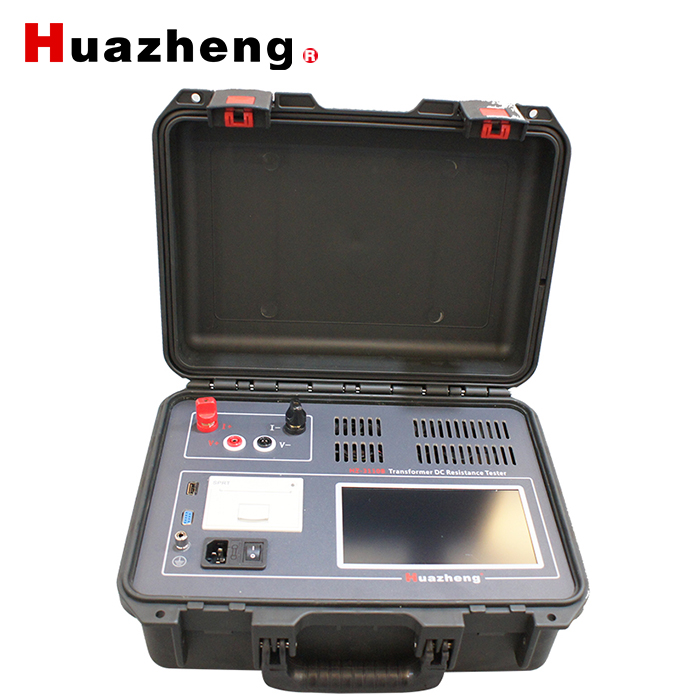 Transformer DC resistance tester